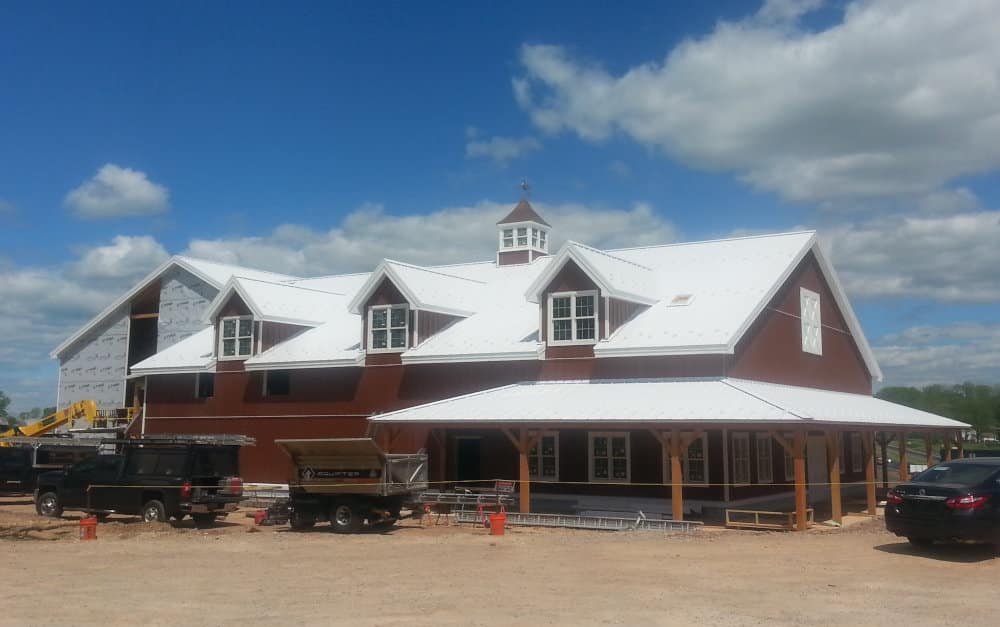 Standing Seam Roofing
Standing seam metal roofing is fairly prevalent on homes in Chester County, Pennsylvania. It is a metal roofing panel system that utilizes concealed fasteners, and interlocking vertical seams or "legs" that rise above the panel's flat surface. Since standing seam systems utilize concealed fasteners, the life expectancy of the roof is extended considerably, as there are no fasteners exposed to the elements.
Standing Seam Roofs Add A WOW Factor
Standing seam roofing enhances the aesthetics of the roof with all fasteners neatly tucked away under a solid sheet of metal roofing. Making it a popular choice for larger upscale homes found in the suburbs of Chester Springs, Exton, Glenmoore, Malvern, Phoenixville, West Chester & the greater Chester County area.
8 Benefits Of Metal Roofing
Life Expectancy
When you build a new home, or replace the roof on your existing home, you expect the roof will last for a long time. A long time for Asphalt Shingles is 20-25 years in the best environments. Compare that with standing seam metal roofing which has a life expectancy in excess of 75 years.
Energy Efficiency
Today Chester County homeowners need to factor in energy efficiency when making purchases for their home, the roof should be no different. An energy efficient roof can produce a huge return on investment for many years.
Studies show metal roofing can help you save as much as 25 percent on heating costs and up to 40 percent in summer cooling energy costs.
Environmentally Friendly
Metal roofing contains up to 60% recycled material, and is 100% recyclable at the end of its life, making it the green choice. If history repeats itself, the cost of your new metal roof will be fully recovered when it is recycled for scrap in 75-100 years.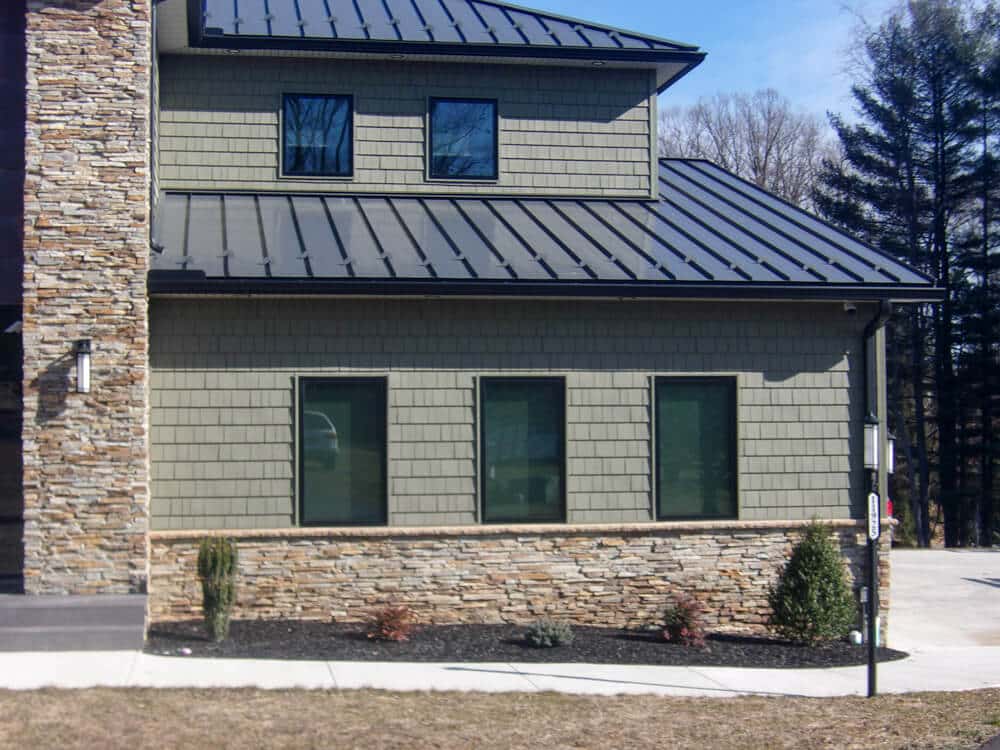 Solar Integration
With each passing year we move more and more toward renewable energy sources. Even if you are not interested in solar energy today, you may be in the future. One of the advantages of metal roofing is its ease of integration with solar panel installations.
Low Maintenance
Maintenance on a standing seam metal roof is almost nonexistent, the exception being every 35-40 years it needs a new coat of paint. Do the math, take your current age and add 40 years. Will the roof still be your responsibility or the next homeowners when it needs to be repainted? Either way having a metal roof repainted every 40 years clearly qualifies as low maintenance.
Unlike asphalt shingles or cedar shakes, a metal roof is not susceptible to algae and fungus growing on it. If you are looking for a worry free roof, metal is the way to go.
Curb Appeal
The countryside from Warwick, down through Ludwigs Corner to Frazer is populated with older stately mansions and new upscale homes. A number of these homes sport a standing seam metal roof that adds a distinctive wow factor to the home. That being said all roofing products have curb appeal when they are new, but what about when they are 10-15 years old?
Take a drive and notice the older roofs in your community, which ones have aged gracefully? You are likely to find the slate and metal roofs have outperformed the others. When it comes to curb appeal, they still got it, not to mention they are still protecting as well as they did on day one. No newly patched areas or discolorations from fungus growth to be found on the metal roofs.
Fire Resistance
Metal roofs have a Class A fire rating, which often translates into a reduction on your homeowner's insurance rate. If you are replacing an asphalt or cedar roof with a metal one contact your insurance agent and inquire about a reduction in your homeowners insurance rate as a result of the change.
Return On Investment
Metal roofing delivers a return on investment in multiple ways, consider some of them mentioned below.
Energy Savings:
Savings of 25% on heating and 40% on summer cooling costs are reasonable expectations when choosing metal over other roofing products, provided you have adequate attic insulation and ventilation.
Life Expectancy:
While the initial cost for metal roofing is higher than some other roofing products, long term it is the better investment. In an optimum environment asphalt shingles last 20-25 years, life expectancy on a metal roof is over 75 years.
When doing a price comparison between metal and asphalt you need to calculate that it takes 3 or 4 asphalt roofs to reach the end of life for a metal roof. In 20 years what will the 2nd asphalt roof cost, or in 40 years the 3rd? It doesn't take long to realize that metal roofing will give you a far better return on investment than asphalt.
Home Value:
Metal Roofing Alliance states metal roofing increases your home's value by as much as $1.35 per square foot. Resulting in a higher selling price should you decide to sell your home.
Recycle Value:
When your roof has reached end of life, it will need to be removed and disposed of. In the event that you have an asphalt roof, you will end up paying to have it disposed of in a landfill, where it may take another 100 years to decompose. If you invest in a metal roof your roof will be recycled. Assuming the current 75 year economic cycle repeats itself, in 75 years your heirs will get more for your roof when it is recycled than what you initially paid for it.
Tax Credits:
Depending where your house is located, some Chester County residents may be eligible for certain federal, state and local tax credits.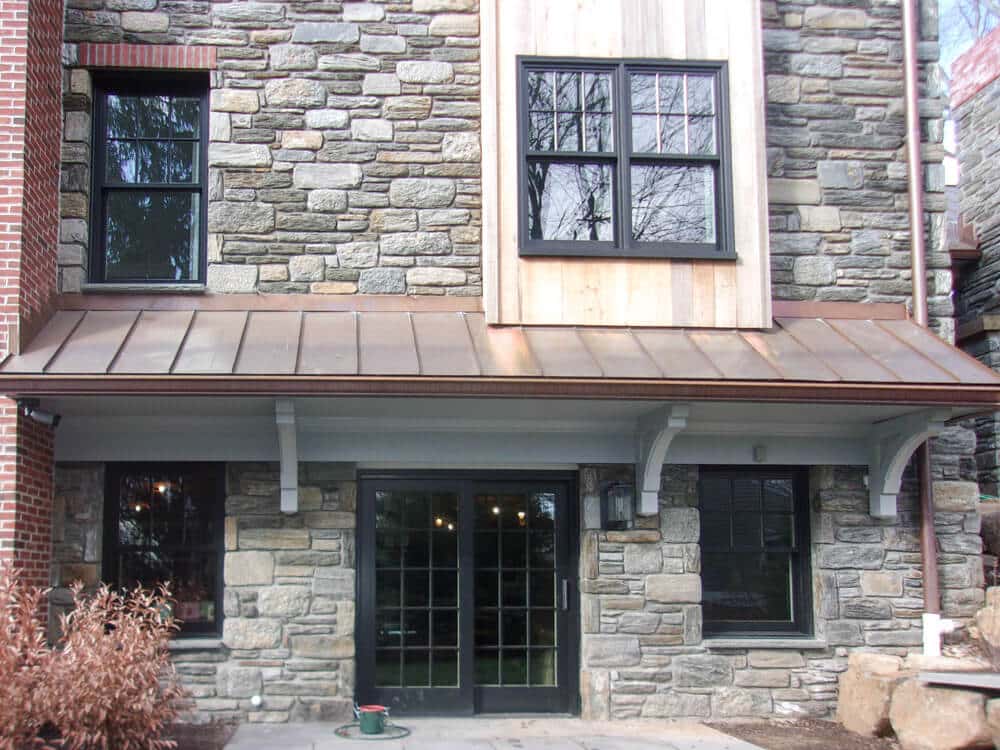 As a homeowner you need to weigh your options for roofing materials carefully, and make the choice that makes the most sense for you. We will be glad to answer any questions you have to help you make an informed decision. Whether you choose asphalt, cedar, or metal roofing, we would be delighted to provide you with a no obligation quote.
We would be honored to have our team of professional roofers install a standing seam metal roof for you. Pequea Exteriors serves Allegiance, Berwyn, Chadds Ford, Chesterbrook, Devault, Frazer, Paoli, Pocopson, and the greater Chester County, Pa area.